In an effort to get people more on the same page of ongoing events of interest to anarchists, anti-authoritarians, and revolutionary anti-capitalists, we're going to start putting out updates on events. Be they informational, actions, court dates to support arrested comrades, or what have you. For ongoing events at various spaces, such as the
Long Haul in Berkeley
, the
Holdout in Oakland
, and
across the bay area
, please see those websites. These are a couple coming up that are worth checking out. Hope to keep this updated. Check out the events page.
Solidarity Rally with BART Workers
Thursday, August 1st, 5pm at Oscar Grant Plaza (14th and Broadway). BART workers will rally again with
solidarity from the ILWU
. Lately, these rallies have been an attempt to contain and direct rank and file anger at union in action, this is still a time when other militants can meet up with each and and discuss the situation.
More info here
.
'Summer Heat Richmond' March and Rally and Action at Chevron
Saturday, August 3rd, 10am-1pm. From indybay: "[Join us] for an historic march, rally, and non-violent direct action at the Chevron refinery in Richmond marking the anniversary of last year's catastrophic explosion and fire. Join the fossil fuel resistance! We Can Stop Climate Chaos. Meet at Richmond BART 10:00 a.m., and march from there to the refinery." BYOP (Bring your own puppet).
More info here
.
Benefit for Free Association Land Project
Saturday, August 3rd, 6pm-10pm. $20 bucks gets you into see the show, featuring No Parsaran, Moon Bat, and the Brass Liberation Orchestra, and a whole dinner! Speakers will talk about the Free Association Land project, an anarchist land trust out in the woods. Come out and support. At the new 'Out of Line' space located at 4377 Adeline right off San Pablo in Emeryville.
More info and to reserve tickets here
.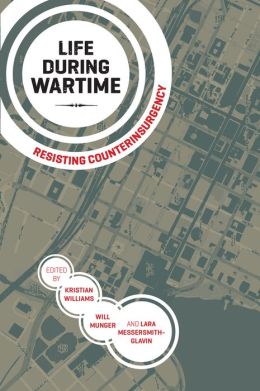 'Life During Wartime: Resisting Counter-insurgency' Book Release (Two Days!)
Thursday, August 8th in Berkeley @
La Pena on Shattuck
and Wednesday,
August 7th in San Francisco @ Station 40 in SF
.
"This talk will explore the domestic application of counterinsurgency strategy and community policing methods, which are predominantly directed at poor communities of color in the US. Kristian Williams will provide an overview of policing and the domestic application of COIN. Kevin
Van Meter
will explore the currently campaign of repression directed at radical environmentalists, animal rights activists, and others, referred to as the "Green Scare." Jenny Esquivel has worked with Sacramento Prisoner Support since 2006. She has gone on tour multiple times speaking about Eric McDavid's case, entrapment, and political prisoners."
Eviction Free Summer Action in San Francisco
Saturday, August 10th, 10:30am. Picket the homes of those kicking out AIDS patients in SF under the Ellis Act. "
Jeremy is a disabled senior living with AIDS who has lived in the Castro for over four decades. His home is being taken away from him as the new property owners (a company made up of three real estate speculators based in Union City) have served him with an eviction notice using The Ellis Act. His eviction date is scheduled for Sept. 10, 2013 and Jeremy along with Eviction Free Summer will fight to the end! Join the campaign on Saturday August 10th as we travel to the homes of these property owners. Let's make it clear that we will not tolerate the evictions of our senior and disabled community members! You can learn more about Jeremy's story here."
Facebook event here
.